Not too long ago
my sister
talked me into meeting her in Old Town Scottsdale for a little Saturday brunch. If you know me at all, I
rarely
never pass up a brunch invitation. I love brunch. We went to a new hip joint called "
Daily Dose
." Outside of this restaurant there are adirondack chairs sitting out front under some misters. You are sure to get a little sun if you are waiting, which we did. But, I think this is a nice touch. You get to people watch and in Old Town, that is always a treat! Tourists, people on the walk of shame, etc...
Once we were sat our server was a little quiet and not outgoing at all, but we will let it slide. I ordered my signature brunch drink, a Bloody Mary, and Tel ordered hers, the Mimosa. (Very telling of our personalities) My Bloody Mary came with an extra large straw, perhaps to allow the bacon to flow freely. We also decided to split our brunch and we ordered the Southwest Wrap. It was delicious, but the chorizo was a little too salty. Had I been hungover I may be singing a different tune about the salt content. Splitting the dish was a good choice because it would have surely been too much for just me!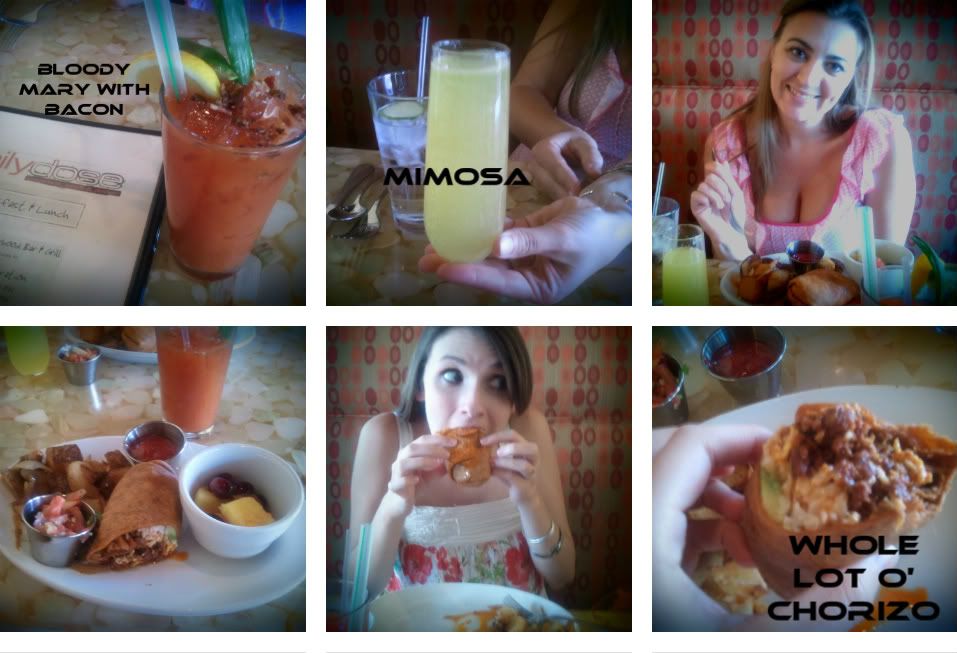 I think I would go back again to try a different dish and different serve should I be in Old Town for brunch another day. Maybe to enjoy the patio. ..